ERPNext

Enterprises never had it better! ERPNext is a system of integrated applications that can manage the entire business and automate back-end office functions. This open source platform offers everything from product planning and manufacture to accounting and inventory control.
In the late 80s, everyone wanted government jobs, and in the 90s, it was engineering and medicine that people were attracted to. Today, everyone is trying to turn into an entrepreneur. Every other day we find a group of highly ambitious, talented youngsters toiling hard to make their dreams come true. becoming job providers rather than seekers. Even venture capitalists are showering them with funds. And now, a few open source enthusiasts have developed an enterprise resource planning (ERP) tool for entrepreneurs, called ERPNext.
ERP, as the name suggests, is business management software. It allows an organisation to use a system of integrated applications to manage the business and automate many back-office functions related to technology, services and human resources. It is an integrated platform which helps the company to collect, store, manage and interpret data from its business activities like product planning, manufacturing, marketing, inventory management, shipping, payment, etc.
ERP systems, which stands for Enterprise-Resource Planning, are necessary for every modern company and take care of all aspect of a business. The main issue is that ERPs are complex and expensive due to cost of the system itself, hardware and consulting fees. In this case web-based ERP solution is less costly to implement and maintain. Enterprise Solutions have become indispensable to functioning of an organisation. Business Intelligence data and analysis hold the key to organisational future. ERPNext offers cloud-based, customised, user-friendly and intelligence-intensive enterprise solutions based on ERPNext Platform for small, medium and large organisations to empower them with total business control and 100% operational transparency.
ERPNext is the perfect example of the software that will help company to organize and manage the work of each department. ERPNext is an open source web-based system aimed at small and medium sized businesses. It assists companies with accounting, project and task management, sales, purchase, inventory, CRM, administration, human resource management, manufacturing, and even website. This system is the most suitable for businesses in manufacturing, retail, and distribution spheres. Extensive functionality is integrated into a single platform for easy management. ERPNext is a modern tool that covers billing, quotes, leads, payroll, etc. Our Enterprise Solutions, based on the open-source ERPNext Platform, streamlines your business operations across the entire life cycle, create more visibility, strengthen your grip on business and ultimately enhances your profitability across functions like:
ERPNext is built using Python and MySQL as the database backend. The underlying web app framework is called Frappe and is a separate platform for development and deployment of rich web applications. ERPNext has a Model-View-Controller architecture that together with metadata modeling tools provides flexibility: users are able to adapt the system to unique purposes of their business without the need for custom programming. Users can use ERPNext as a Software as a service or host it on their own.
Customer Relationship Management (CRM)
Multiple Warehouse Management
Point Of Sale (POS)
Stocks Management
Sales & Purchase
Manufacturing
Accounts & Finance
Human Resources Management (HRMS)
Projects & Tasks Management
Services
Help Desk Management & Support Tickets
Business Intelligence Dashboard & Reports
Mobile Applications
Integrations with 3rd party software etc.
The ERPNext Platform
The ERPNext platform is trusted by users across 60 countries & Available in 30+ languages. It is a simple, powerful and comprehensive ERP solution which is affordable and easy to use, that can be hosted on cloud or on premise. Built for small and medium sized businesses across the world, ERPNext is PERFECT for GROWING COMPANIES. It is designed to grow with you. We provide the following functionalities:
Customer Relationship Management (CRM) - Track opportunities, prepare quotes, and record orders and shipments. Communicate with customers via email, or newsletters. Distribute commissions to sales partner or teams. Apply pricing and discounts based on rules. Record warranty claims and their resolution.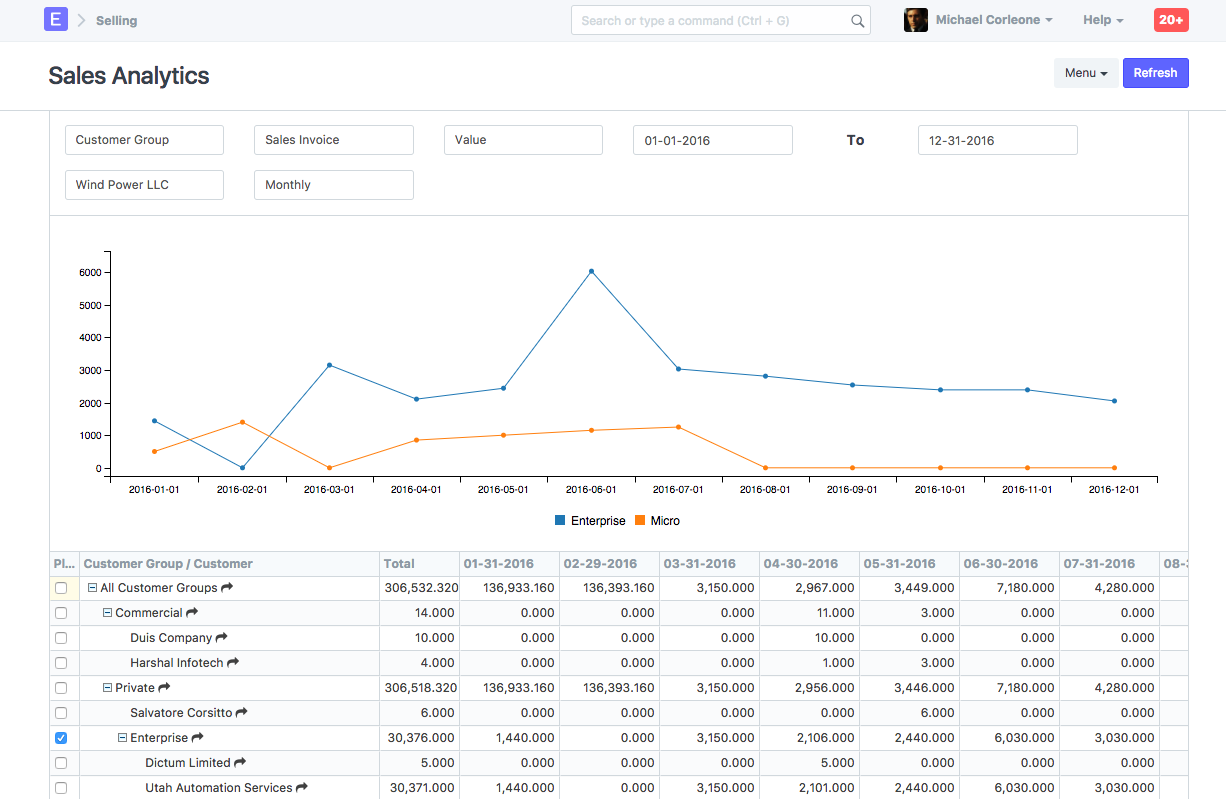 Human Resources Management (HR) - Another important aspect in the ERP is human resource management. Right from the planning of resources to the attendance and the leave report, everything is well integrated into this system. New employees can be added from Human Resource-> Employee ->New . Track attendance, allocate leaves, and manage leave applications. Record and approve expense claims. Generate monthly payroll and integrate it with accounts. Manage available positions and job applications.
When employees spend some money from their own pocket for official purposes, they can claim these by raising a new expense claim. The salary and payroll is also well integrated in this ERP. The Salary Structure represents how Salaries are calculated based on Earnings and Deductions. To process Payroll in ERPNext, one has to first create Salary Structures for all Employees, then generate salary slips via the salary management tool, and then book the salary in the respective accounts. By creating a new Job opening in the portal, we can also share the information about the job.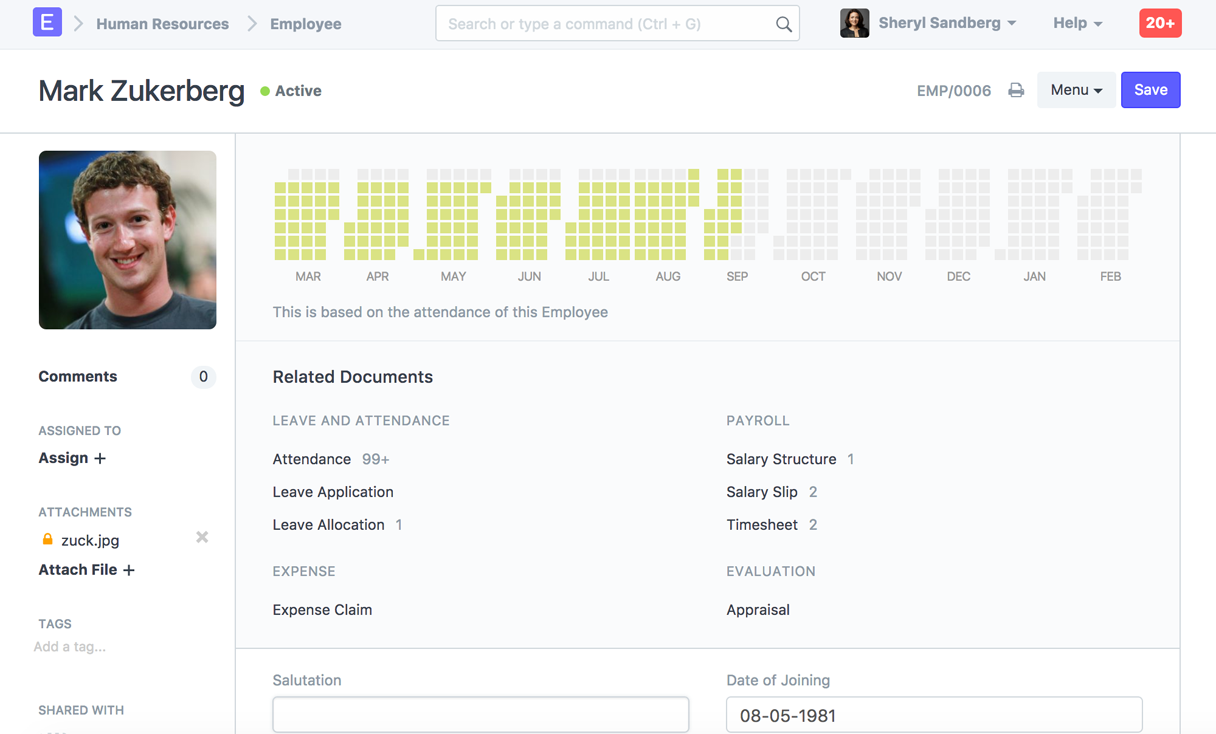 Stock Management - Stock maintenance is also very important in ERP, and this has been thoroughly dealt with in this tool. If we want to request for material, then we must go to Stock->Documents->Material request-> New. The material request is categorised into three types——Purchase (if the requested material is to be purchased), Transfer (if the material is to be transferred from one warehouse to another) and Issue (if the material is to be issued)to ease the process. The Stock entry is used to record the transfer of an item from one warehouse to another. When shipment is made from the warehouse, a delivery note is generated. The warehouse, being the most important part of Stock, must be under constant scrutiny and for this, one can go to Stock->Warehouse. In ERPNext, every warehouse must belong to a specific company, in order to maintain company-wise stock balances. Warehouses are saved with their respective company's abbreviations. This helps to identify which warehouse belongs to which company, at a glance..
Point of Sale - Use the touch-friendly POS interface to quickly record a Bill, its Payment and the resulting inventory reduction. Manage per-location settings like currency, cash / bank account, taxes, and terms and conditions.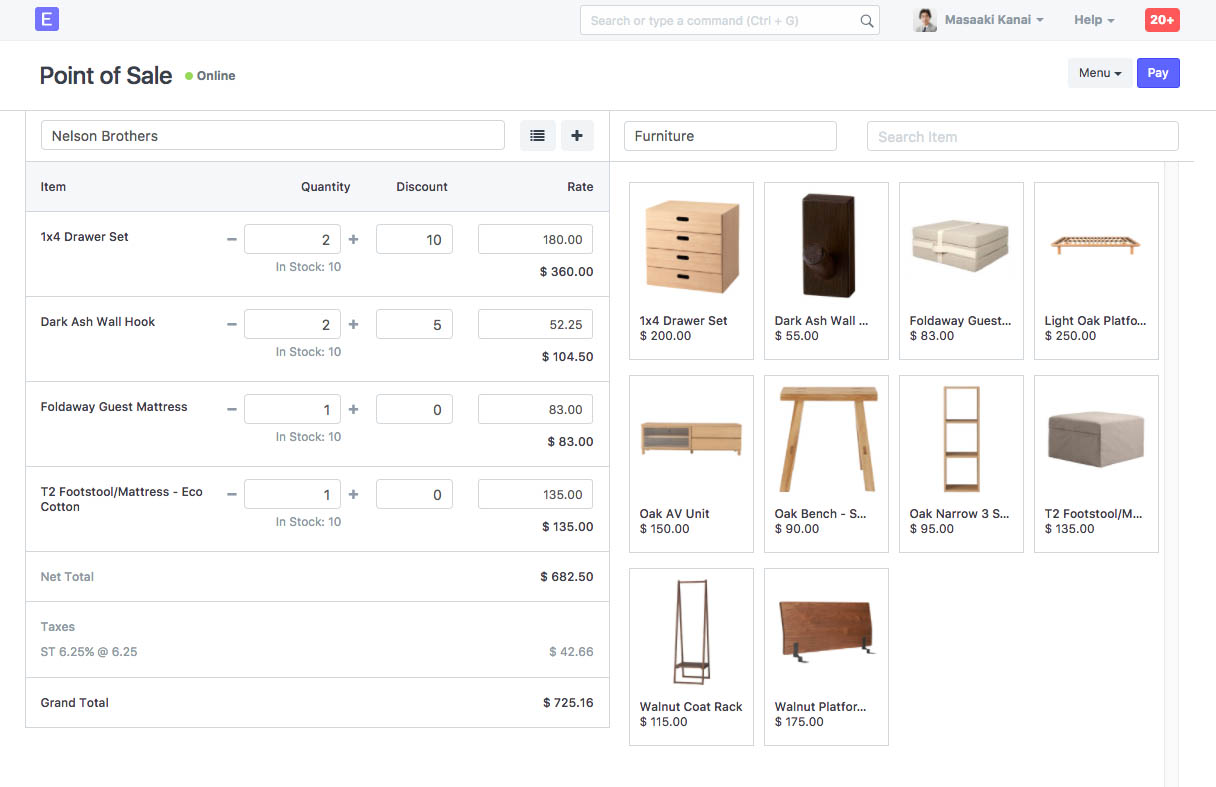 Buying & Inventory - Payments made against Sales Invoices or Purchase Invoices can be entered by clicking on the 'Make Payment Entry' button on Submitted invoices. The credit limit is also built into this. The credit limit is the maximum amount of credit that a financial institution will extend to a debtor for a specific line of credit. This can be achieved by going to Selling->Document->Customer. Automatically raise material requests, send POs to suppliers, and record purchase receipts. Track inventory levels per warehouse and make corrections on manual inspection. Use batches and serial numbers, get stock valuation, and use automated inventory accounting.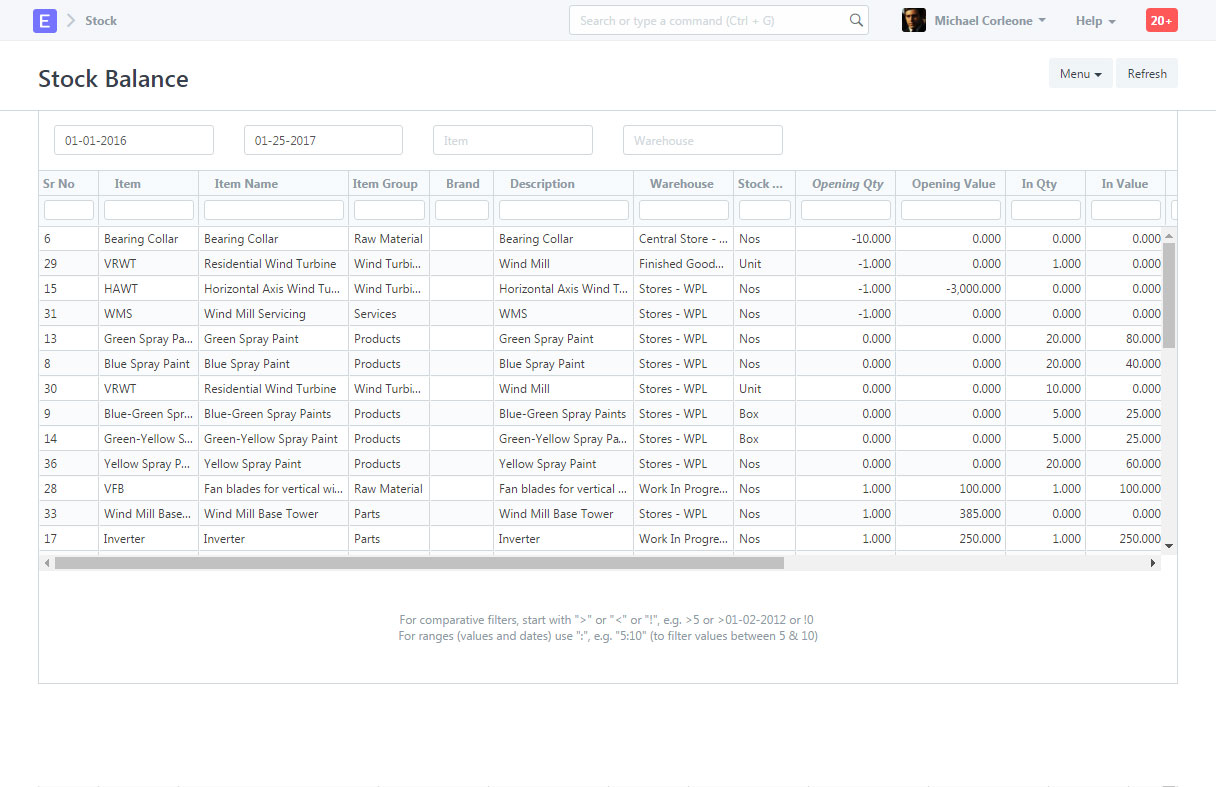 Manufacturing - Plan your production and material requirements using production planning tool. Make production schedule based on workstation availability. Use hierarchical bill of materials and costing. Sub-contract / outsource part of the manufacturing process and include its cost into the resulting products.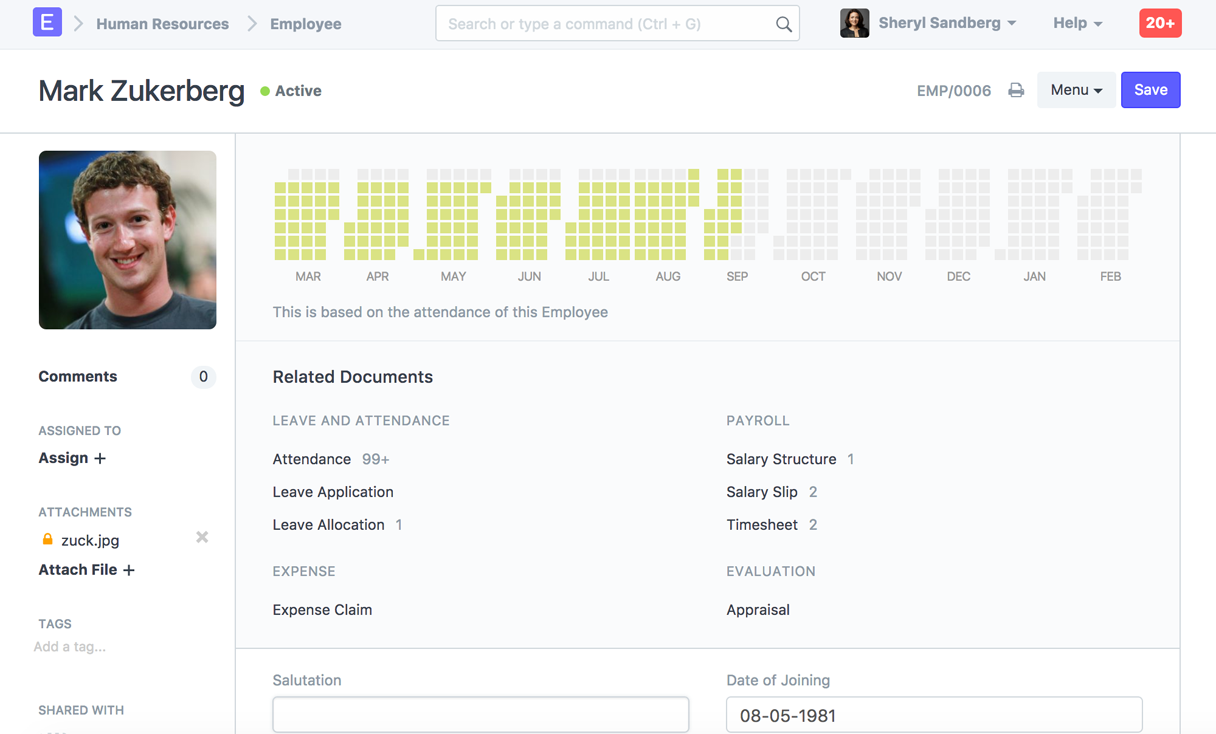 Accounting & Payments - We all know that accounts are the backbone of any institution; so let's start with what ERPNext has to offer in this field. The accounts part of the package contains Journal Entry, Sales Invoice, Chart of Accounts, Making Payments, Accounting Reports, Item-wise Tax, Point of Sales invoices, and many more features. All types of entries other than sales invoices and purchase invoices are done using Journal Entry. To create a Journal Entry one has to go to Accounts ->Documents->Journal Entry ->NewBill your customers and record supplier's invoices. Manage pre / post payments, track pending ones and provide credit notes. Use different currencies, manage recurring invoices, and restrict approval based on amount. Budget your purchases using monthly distribution of funds and cost centers.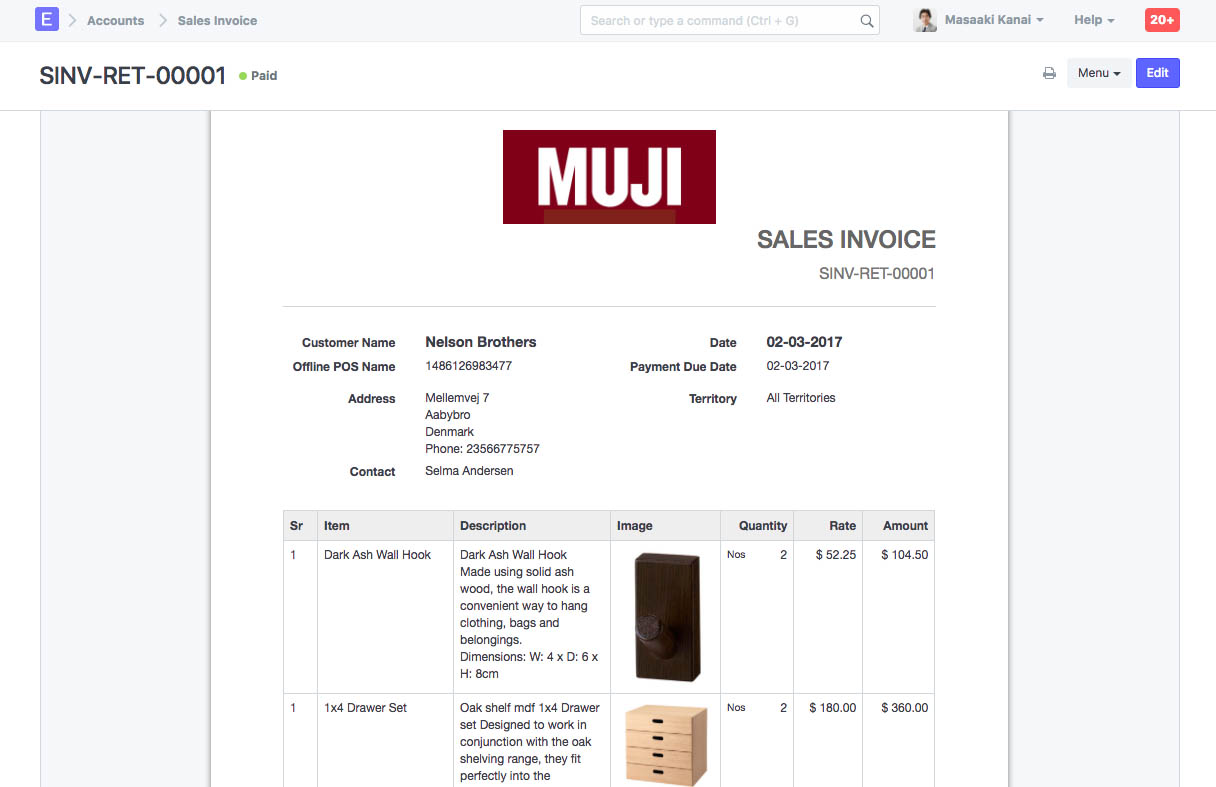 Projects - Define and allocate tasks for projects and make time log entries for work done against tasks. Track orders, invoices and inventory against projects, and bill your customers using time logs.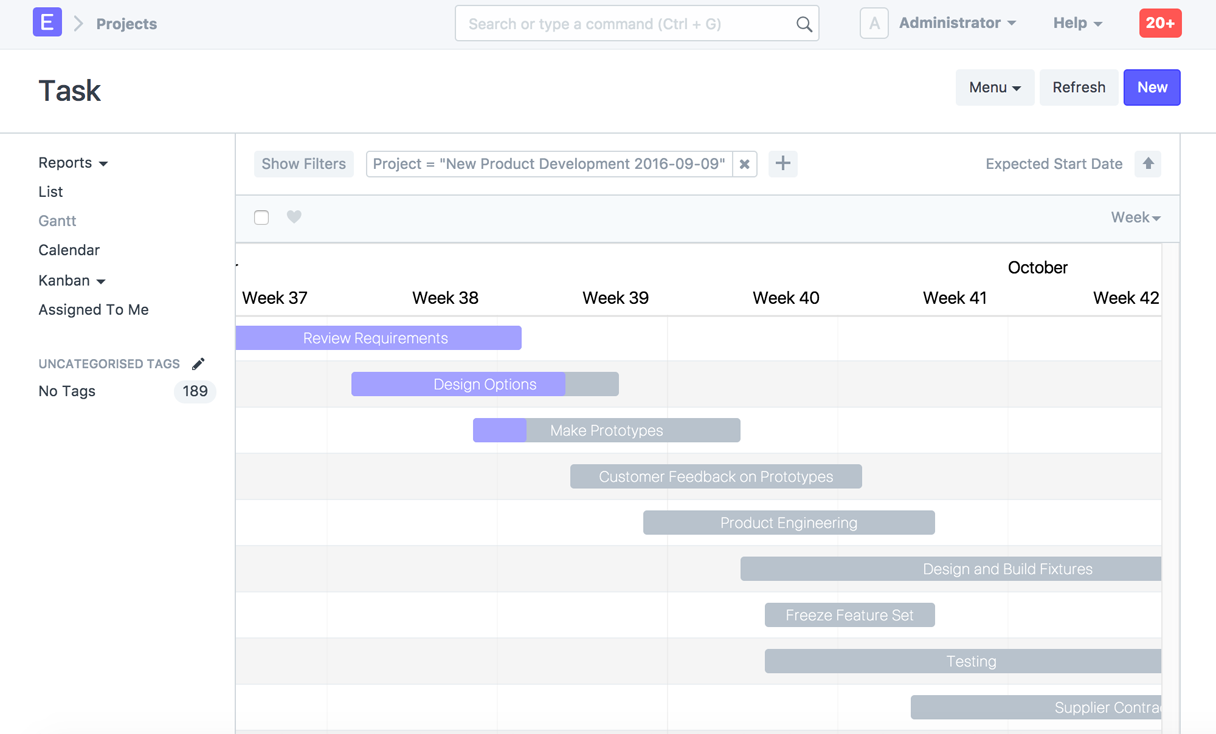 Help Desk - Capture issues reported by customers, communicate via email, assign tickets to your team and track support status. .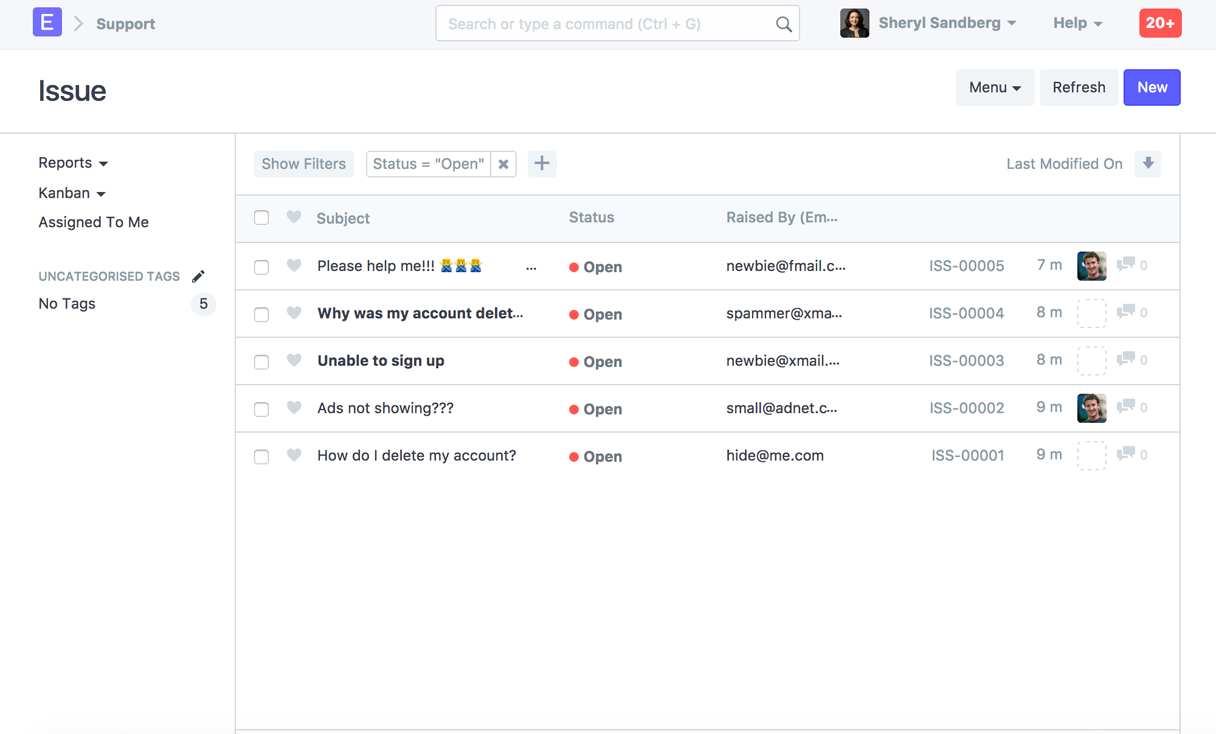 Reports & Dashboards - View reports like balance sheet, profit and loss, sales and purchase register, project Gantt chart, item-wise purchase history, customer acquisition and loyalty, and many more. Create your own reports using the report engine or by writing custom database query.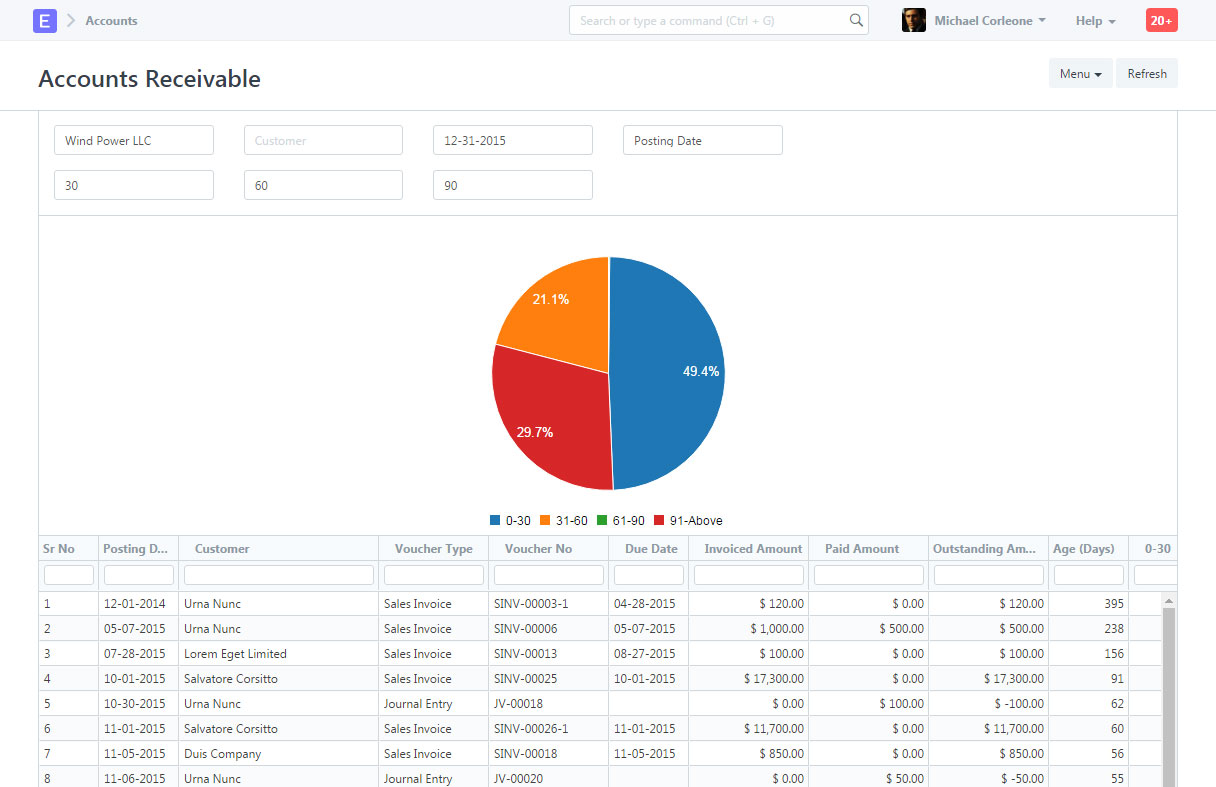 CRM - Customer Relationship Management
Moving on to customer relations management, ERPNext's CRM module contains leads, customers, opportunities, campaigns and many other features. Leads are important because they help a company to make a sale. Since there are multiple contacts and addresses for a customer or supplier, these leads are stored separately in ERPNext. Even the campaign is managed in the Campaign tab and tracked via the Leads UI.
Distribution - Keep track of inventory, sales, serial numbers, batches across locations and warehouses. Manage billing, expenses and purchasing.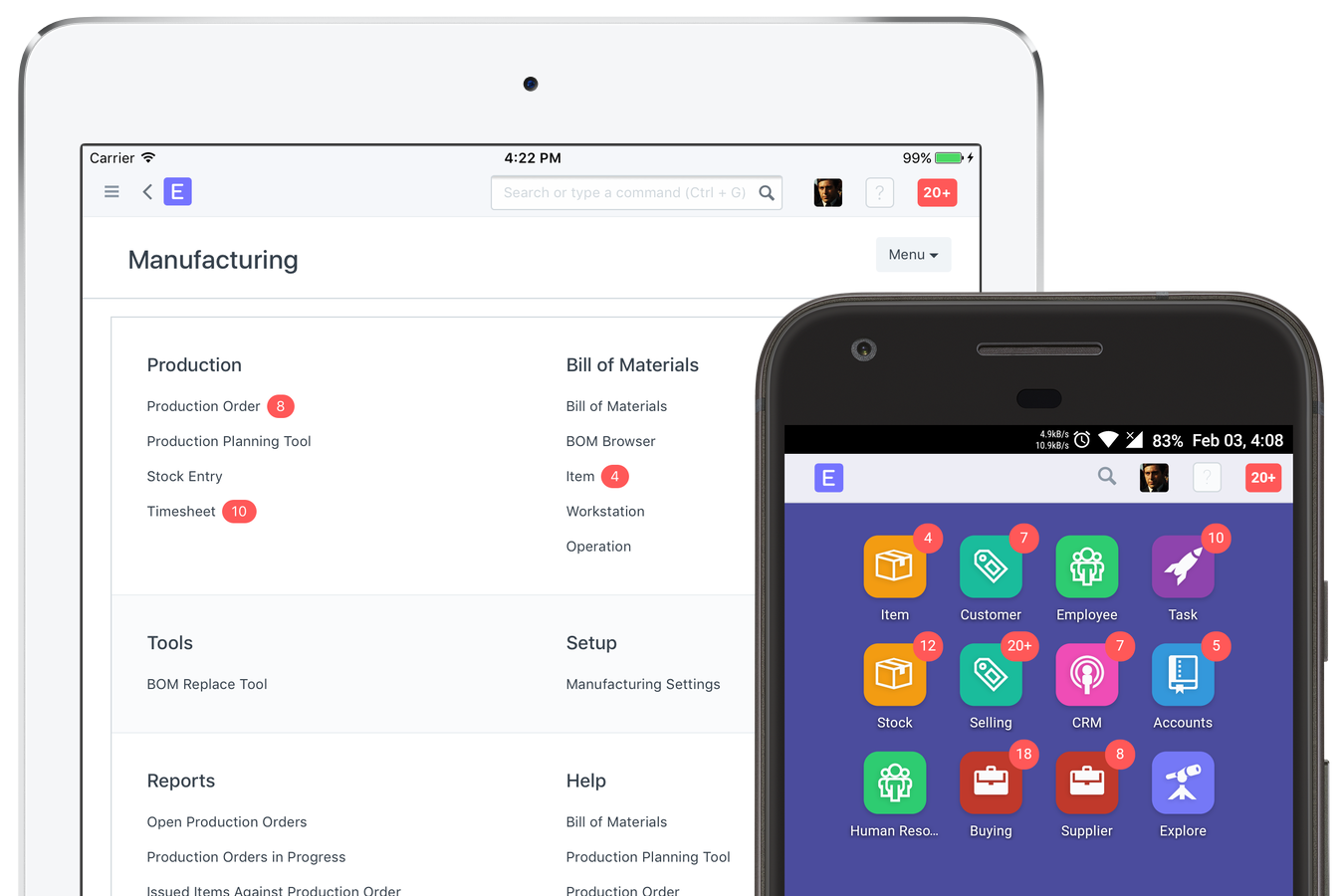 Retail Function - The buying and selling of goods is also managed, and here the user can generate quotations for clients as well as keep a track of supplier's quotations. The Sales Order confirms your sales and triggers purchase (Material Request), shipment (Delivery Note), billing (Sales Invoice) and manufacturing (Production Plan). Multi-store retail business can track inventory, sales, billing, warranties, returns and much more across all their stores.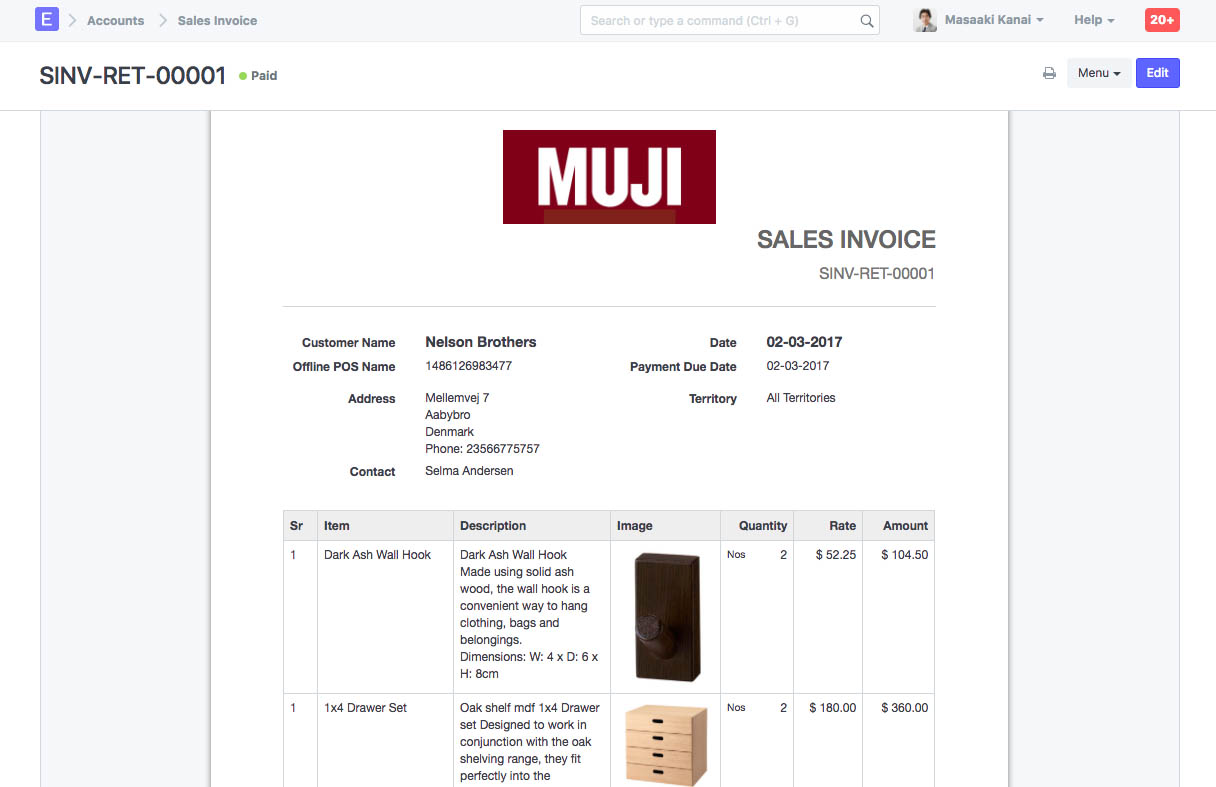 Asset Management - Asset category with all account descriptions, SLM method, depreciation reports, depriciation forecast reports

Mobile & Handheld Support - All business functions will be accessible from mobile and handheld devices. The ERPNext Web portal gives one's customers quick access to their Orders, Invoices and Shipments. Customers can check the status of their orders, invoices and shipping status by logging on to the Web. To log into their account and check the order status, customers have to use their email ID and the password sent by ERPNext, generated through the sign-up process. The best part is that ERPNext provides Web support, i.e., static content like Home page, About Us and Contacts can be created using the Web page by going to Website-> Web Page->New. ERPNext also offers customisation. One can simplify the forms by hiding features not needed, by using Disable Features, Module Setup, Add Custom Fields. One can also change form properties, like adding more options to drop-down boxes or hiding fields using Customize Form View, and make one's own Print Formats by using HTML Templates. ERPNext is a very well integrated tool, which caters to almost all the requirements of a company and especially a start-up. I would recommend it for all those young entrepreneurs who have set up a company and will be working hard to fulfill their dreams.
ERPNext shows that ERP does not need to be complex and heavy to be effective. This system is simple, powerful, and full of features. It allows departments of small or medium sized companies to run smoothly and communicate with one another using resources of one unified solution. Moreover, We help you to extend ERPNext and implement custom functionality via the API or creation of fully featured extensions for specific business needs. Please call 9742347156 for more informations.